/ ISM
ta.cin(ta)refohznel.nafets
Stefan Lenzhofer
Chief Information Security Officer
Stefan Lenzhofer holds a Bachelor's degree in Computer and Media Security and a Master's degree in Information Security Management from the University of Applied Sciences Upper Austria. He has been working for CERT.at since December 2010 and has been head of the Austria Energy CERT since 2018. As Chief Information Security Officer (CISO), Stefan Lenzhofer is responsible for the Information Security Management System and Business Continuity Management at nic.at. For example, he manages and monitors the security requirements for the technical support of new Top Level Domains (gTLDs) by nic.at.
---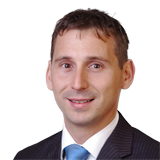 Andreas Steyrer
Security Officer
studied Information Management and IT Security at UAS Technikum Wien. He joined nic.at in 2013 and supports the team in building and operating the Information Security Management System. He is contributing his experiences as a process manager at one of the biggest Austrian ISP's.
---
Michael Zach
Security Officer
graduated from TU Wien in Computer Science and from UAS Technikum Wien in Information Management and IT Security. At nic.at information management security team his focus is on vulnerability management and technical security audits, gaining from his longterm experience as a developer and administrator in enterprise environments.
---
Benedikt Olszewski
Security Officer
was responsible for vulnerability management at the Federal Ministry of Defence as part of MilCERT until recently. Prior to this, he worked as a consultant for digital forensics at PWC, and he started his career at the internal information security department of the Austrian Federal Chancellery. Since 2019, he has been part of both the ISM team and the Austrian Energy CERT.
---