/ ISM
ta.cin(ta)ytiruces
Patrick Pichler
Chief Information Security Officer
studied Information Management and IT Security at the UAS Technikum Wien. After his studies, he worked for the banking and outsourcing industry in the field of IT administration and IT security and joined nic.at in 2017. As Chief Information Security Officer (CISO), he is responsible for all safety procedures at nic.at. For example, he manages and monitors the so called ISO certification in the course of technical support for new top level domains (gTLDs) by nic.at. In addition, Mr. Pichler still supports the team of CERT.at in the development of the NIS report centre for implementing the NIS Directive.
---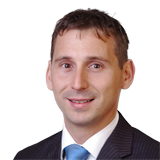 Andreas Steyrer
Security Officer
studied Information Management and IT Security at UAS Technikum Wien. He joined nic.at in 2013 and supports the team in building and operating the Information Security Management System. He is contributing his experiences as a process manager at one of the biggest Austrian ISP's.
---
Michael Zach
Security Officer
graduated from TU Wien in Computer Science and from UAS Technikum Wien in Information Management and IT Security. At nic.at information management security team his focus is on vulnerability management and technical security audits, gaining from his longterm experience as a developer and administrator in enterprise environments.
---