/ PR & Marketing
The nic.at PR & Marketing team is responsible for all public relation acitivites around nic.at and .at domains. If you have any questions feel free to contact the team by e-mail (pr@nic.at) or by telephone +43 662 46 69 -63.
---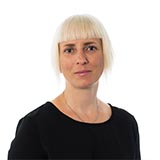 ta.cin(ta)rednib.enomis
Simone Binder
Head of PR & Marketing
graduated in "Economics and IT" at the University of Applied Scieneces in Salzburg. After ten years working for design and digital agencies Simone Binder joined nic.at in 2016. She is responsible for web and marketing related projects and the brand development of nic.at and all related companies. In January 2019 she became Product Owner of RcodeZero DNS and in September 2019 Head of PR & Marketing for nic.at and all related companies (tldbox GmbH and ipcom GmbH).
---
ta.cin(ta)resuahuen.sirod
Doris Neuhauser
PR & Marketing
started her marketing career at the largest specialist opticians chain in Lower Austria. After a few years, she moved to a large corporation in the thermotechnology sector and took over the position of Brand Manager. After moving from Vienna to Salzburg, she worked for an automobile bank and is now part of the nic.at PR & Marketing team since mid-March 2020. She completed her education "Graphic & Communication Design, Print & Producing" at the Graphische in Vienna. Currently she is studying "Marketing & Sales" at the SMBS, University of Salzburg Business School.
---
ta.cin(ta)suark.dnalor
Roland Kraus
Sales
graduated from the University of Applied Sciences for Small and Medium-Sized Businesses in Munich as a state-certified business economist IHK with a focus on sales management. He started his career as a construction clerk in the construction industry, working worldwide until 2012. Before starting at nic.at, he worked as a regional sales manager at a Knauf subsidiary with focus on Africa and export. Furthermore, in 2019, he founded a start-up in the field of IT specialized trade, which was managed until June 2021. Since July 2021 his job includes the sales of nic.at products as well as the product owner for RcodeZero DNS.
---