/ PR & Marketing
The nic.at PR & Marketing team is responsible for all public relation acitivites around nic.at and .at domains. Additionally, the team takes care of the sponsorship program "Netidee" - Austrias biggest Internet sponsorship program. If you have any questions feel free to contact the team by e-mail (pr@nic.at) or by telephone +43 662 46 69 -63.
---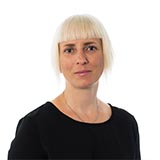 ta.cin(ta)rednib.enomis
Simone Binder
Head of PR & Marketing
graduated in "Economics and IT" at the University of Applied Scieneces in Salzburg. After ten years working for design and digital agencies Simone Binder joined nic.at in 2016. She is responsible for web and marketing related projects and the brand development of nic.at and all related companies. In January 2019 she became Product Owner of RcodeZero DNS and in September 2019 Head of PR & Marketing for nic.at and all related companies (tldbox GmbH and ipcom GmbH).
---
ta.cin(ta)knar-knip.akinom
Monika Pink-Rank
Head of PR & Marketing
holds a master degree in foreign languages (French, Russian) and a certificate in PR & Communication. She started her career at the Austrian domain registry nic.at as PR Officer in 2000 and became member of the nic.at management responsible for projects and change management shortly afterwards. From 2003-2008 she was working in the youth marketing field managing the European Youth Card EURO<26 in Austria. In July 2010 she came back to nic.at as Head of PR and Marketing for all existing and new business activities.
---
ta.cin(ta)regnibreoh.asil
Lisa Hörbinger
PR & Marketing
has studied Sports, Culture and Events Management. After some years working for an Austrian outdoor sports brand and for Online Marketing agency, she joined nic.at in 2019. Lisa is currently doing her master's degree in "Digital Marketing" at FH Kufstein and supports the Marketing & PR team in different (content) marketing and communications topics.
---