/ Management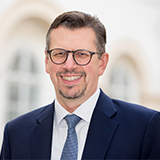 ta.cin(ta)akhcsihcs.trebor
Robert Schischka
CTO
studied business economics at the University of Economics in Vienna, specialising in commercial information technology and controlling. His professional focus is within the topics of IT strategy, architecture, infrastructure and IT security. He gained his profound experience as a security expert during his occupation in a subsidiary company of the Austrian National Bank and as a consultant with the internationally active IT-consulting company CSC. Along with Richard Wein, he has been the CEO of nic.at since September 2003, where he is responsible for the technical operation. And since 2008 is director of the national Computer Emergency Response Team ( CERT.at).
---
ta.cin(ta)niew.drahcir
Richard Wein
CEO
is a state-certified Business Economist from Bad Reichenhall. He gained occupational experience in controlling, organisation and commercial management during his employment with Agfa-Gaevert (Munich), Sigl brewery (Obertrum), Wiberg (Salzburg, Freilassing) and Bürgerbräu brewery (Bad Reichenhall), which led him to the position of the a manager for financial, administrational, organisational and IT concers within the company nic.at, where he has been the Commercial Manager since Summer 2000.
---
ta.cin(ta)renkcallog.enitsirhc
Christine Gollackner
Assistant to the Manager
supports the business managers in all respects and takes over organisational tasks for nic.at.
---