/ 1
Feb 27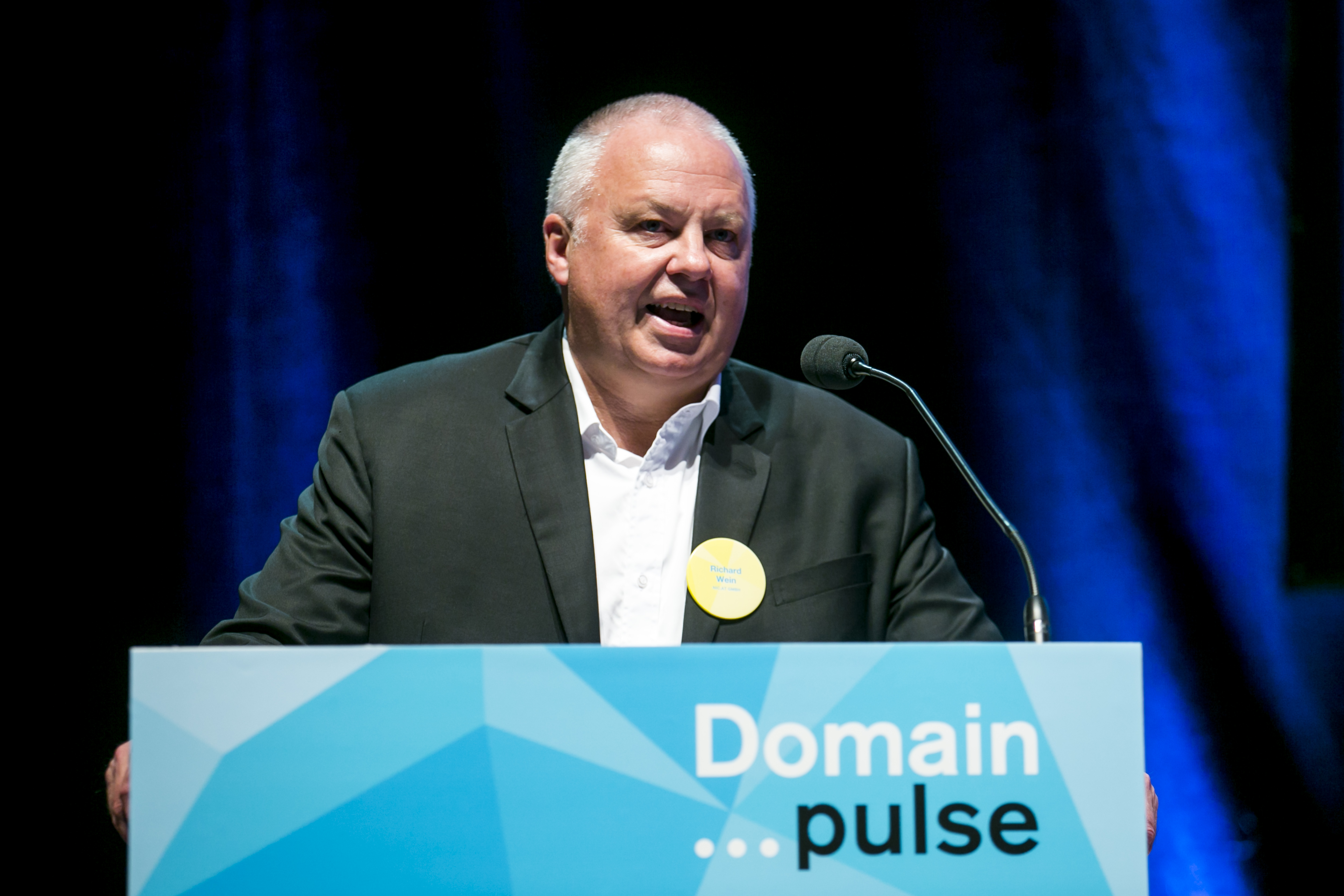 / Press-Reports - 27.02.2020 17:17
Domain pulse 2020: Experts meet to discuss the future of the Internet
At this year's Domain pulse (the industry event of the German-language domain registries nic.at, denic and SWITCH) last week in Innsbruck, notable experts outlined the challenges that technological progress poses to society, and how the internet industry should react to them.
"We are pleased to welcome a "Who's Who" of the German-speaking domain industry here in Austria every three years", nic.at CEO Richard Wein greeted the 250 participants at the Innsbruck Congress last Thursday. Under the slogan "A look into the crystal ball", the organisers presented a content-rich programme, which focused on current and future topics regarding the internet, such as internet governance, The War for Talent, artificial intelligence, 5G, and networking in everyday life. Robert Schischka, technical director of nic.at, drew a positive conclusion after the two intensive days of events: "We gained exciting insights from different areas and perspectives. It is exactly this diversity that we need in order to face current challenges. Interdisciplinarity and good communication are key to the solution".
Internet Governance: A new generation demands a say
Maarten Botterman, newly elected chairman of the global Internet governance organisation ICANN, presented their strategic plan for the next five years in his opening keynote speech "Building the Future Together". One of the key objectives is to give as many people and stakeholders as possible a say in ICANN's multi-stakeholder model, while ensuring effective implementation. The NextGen programme is designed to encourage the participation of young people.
In a subsequent round of discussions with representatives of this new generation, long-established decision-makers had to ask themselves questions about additional opportunities for participation. Both young and old agreed that the solution lies in listening to the younger generation and taking them seriously, while they in turn should become more involved in internet governance issues and cultivate a more conscious approach to the Internet.
Fight for (young) talent
However, companies also need to develop new strategies if they want to keep up in the global struggle for millennials, pointed out Dr. Steffi Burkhart, an expert who is considered a voice of the younger generation. Demographic change is becoming an ever greater problem, especially in Austria, Germany and Switzerland: "We are facing a systemic collapse in business, administration and science. However, companies often have nothing more to offer in the fight for the best talents than stale structures and outdated hierarchical thinking," the author said in Innsbruck. This is a mistake, because young people are interested in flexibility, appreciation and co-determination. "Digitalisation and artificial intelligence are changing our working world. 65 percent of the jobs in which Generation Z (born after 1996) will work do not exist today". Burkhart advised companies to replenish their talent pool, train existing employees, dismantle some hierarchical levels and build their own recruiting teams for the tech sector. But that's not all, because Burkhart prophesies: "The younger generation's digitally influenced, networked way of thinking will change the economy internationally in the long term.
To err is human: Does artificial intelligence help?
Even if many jobs are lost due to digitalisation, the machine cannot replace humans. Manfred Müller, head of flight safety research at Deutsche Lufthansa AG, spoke about the opportunities and risks of artificial intelligence, and whether it will lead to greater safety in air travel. "Increasing automation has not increased safety," said the training captain. "Man is indispensable, but he makes mistakes that need to be reduced." It is also important that mistakes are recognised in order to avoid them in the future. According to Müller, this risk management has increased air traffic safety by more than a factor of 100 within a few decades. A strategy that can also be applied in many other industries.
In her lecture, Dr. Janina Loh from the Institute for Philosophy of Technology and Media at the University of Vienna also urged caution in dealing with new technologies. As robots have entered more and more areas of human life since the middle of the 20th century, moral questions have played an increasing role in their use (robot ethics). "Actions are never morally neutral, nor are the products of human actions," said the scientist. "Numerous ethical questions arise in all areas of robotics, which society must face with caution and critical awareness. Even at school, children should learn that robots are not neutral."
5G - The new generation in mobile communications
The challenge 5G poses to society was the subject of a panel discussion "Civil rights versus surveillance: Where are we going?" Dr. Christof Tschohl of the Vienna Research Institute-Digital Human Rights Center emphasised the importance of data protection: "It is a fundamental right and thus a state duty to ensure it. The free market cannot regulate everything." For the data protector, human rights are the legal anchor and common denominator. He called for more interdisciplinary exchange in order to assess the consequences of technology. Erhard Friessnik, Head of the Cybercrime Competence Center at the Federal Criminal Police Office, disagreed: "Authorities must also use new technologies, but they are reaching their limits with end-to-end encryption. Crime may be shifting to the digital world, but the damage is still in the real world. Jan-Peter Kleinhans of the Stiftung Neue Verantwortung in Berlin described the conflict between goals: "Public security is guaranteed by the state's access rights to the network architecture, but IT security does not have confidence in the network and wants to protect the data as well as possible. Therefore an open discourse and exchange in Europe is important. Because one thing is certain: "After 5G comes 6G."
The most connected man in the world
Chris Dancy showed that networking also plays an increasingly important role in everyday life. The American, described as the "most connected man in the world", uses over 700 devices and apps to record all bodily functions, sporting activities and his food intake, and presents the results on his website. At Domain Pulse he gave an insight into his everyday life, comparing the new technologies with magic and how to find your inner peace with it: "We don't download apps, we download rituals".

The entire programme and further information on the speakers as well as photos can be found at domainpulse.at/dp2020