/ "If we had taken too long over the registration, the domain would no longer have been available."
Nov 10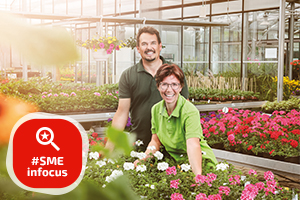 / nic.at News - 10.11.2022 06:03
"If we had taken too long over the registration, the domain would no longer have been available."
The Gartenfuchs plant nursery has been in family hands for 70 years. For the flower-loving family, their website is their calling card – but they did not snap up the gartenfuchs.at domain until the very last moment.
From geraniums, tulips, lilies, roses and violets, to hydrangeas, dahlias and various herbs: almost everything at the Gartenfuchs nursery in Pöchlarn in the district of Melk in Lower Austria is home-grown. For over 20 years Jakob and Jasmin Fuchs have been running the family business, which was founded in 1947. The couple attach a great deal of importance to quality, growing most of the plants themselves. "We hardly use any chemical pesticides, and put our heart and soul into what we do. This is what sets us apart from big-box garden centres," says Jasmin Fuchs. In the family business, everyone pitches in: "While my husband and I have overall responsibility, whenever someone else from the family stops by, they pick up the watering can and help out."
.at domain as a sign of quality
The Fuchses brought a breath of fresh air into the family business, changing the name from Gärtnerei Fuchs to Gartenfuchs over ten years ago. "We built a new brand and redesigned our website," Jasmin explains. This also included securing a new domain name. "The domain we wanted was gartenfuchs.at – and, fortunately for us, it was still available at the time. So we quickly registered the .at domain as soon as we came up with the new company name." Just in time, as it turns out, since the company received a purchase request for exactly this domain only a short time after. "Another nursery from Austria was interested in the domain," she recalls. "If we had taken more time to think about it, it's safe to assume that the domain would no longer have been available. Which would have been very annoying."
The website, accessible via the domain name gartenfuchs.at, plays an important role as a flagship for the company. "It's our business card – customers look for us online," says Jasmin Fuchs. For the couple, it was clear from the word go that only a .at domain would do. "We are rooted in the local region, so an Austrian ending was important to us. Even if we had been forced into a rethink, we would still have gone with a .at domain."

No matter whether it's a business idea, a new brand or a new product: without a domain, the job's still only half done. Simone Binder, Head of PR & Marketing at nic.at, offers the following advice: "The first step after the idea is to actually register the domain name. Only if it's still available can new business cards, brochures or advertising materials be printed. If not, people often find themselves in for a rude and expensive awakening if they've gone ahead and printed advertising materials but it turns out that the domain is no longer available." Entrepreneur Jasmin Fuchs urges other company founders: "Securing your desired domain as early as possible is definitely advisable. Otherwise, the opportunity might be gone and then there's no other option but to settle for another domain."
Nursery opens online shop during pandemic
The coronavirus pandemic turned the industry on its head. "At the beginning of the pandemic in 2020, there was a lot of uncertainty, and we didn't know if we would have to close our nursery temporarily," Fuchs recalls. Although still permitted to sell plants as an agricultural operation, precious few customers knew that the nursery was actually open. "In response we launched a concerted advertising drive and were on Facebook and Instagram a lot." And it paid off, as it turned out that demand for plants was high. "Many people wanted to spend time in the garden and get everything looking nice," she adds. The idea of setting up an online store was also born during the pandemic. "We noticed a sharp drop in demand for bouquets – there were fewer parties and hardly anyone stopped by the neighbour's house to give them flowers for their birthday." And Jasmin Fuchs was determined to change that: "After all, a bouquet of flowers brings a smile to everyone's face." The new online store allowed customers to either reserve the flowers for collection or have them delivered to addresses in the local area. The website's regional focus became even more important for Gartenfuchs during this time.
Hyphenated words and slogans are easier to read – and popular with users.
Gartenfuchs secured its desired domain at the last minute. However, time and again people find that the domain they originally wanted is no longer available. So it is definitely worth looking into alternative spellings. Hyphenated words and slogans are easier to read – and popular with users. The eye also takes in a domain name in which the individual words are clearly delineated much more quickly. And as users have come to expect this, they often intuitively enter hyphens in their searches. Including a hyphen in the domain name is not a problem. You can check whether the .at domain you want is still available at any time with the help of our domain finder.