/ Introducing: The Renewed nic.at Roundtable
Jul 19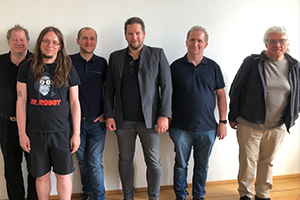 / nic.at News - 19.07.2023 06:08
Introducing: The Renewed nic.at Roundtable
In June, the inaugural assembly of the newly formed and "old" (re-elected) Roundtable representatives was conducted. The meeting focused on introductions, establishing mutual expectations, and determining objectives and possible topics for the coming period.
Over the next three years, the Roundtable will consist of the following six delegates:
"At the invitation of a Roundtable member, I decided to offer my participation in the Roundtable after 18 years of a passive role in the industry. My main motivation is to keep the Roundtable alive as a registrar stakeholder in the .at ecosystem," shares Franz Josef Reischenböck, Managing Director of Ledl.net GmbH.
However, the Roundtable's interests are not solely in representation but also extend to contemporary developments such as NIS2, technical enhancements for registrars and domain holders, and the relevance of the .at-zone. Reischenböck elaborates, "With the NIS2 directive coming into force in October 2024, an event is casting its shadow ahead that will change our processes in everyday business. I am convinced that we will work out good solutions together on this and other topics, and I hope that registrars will once again take more notice of the Roundtable and use it to voice their concerns."
Marcus Hofer, Managing Director of DAY Investments GmbH, who has served on the Roundtable since 2020, echoes his colleague's sentiments: "In a time of individually different requirements, but common challenges, I would like to make the attempt to actively shape our industry environment."
For Martin Fischer, Managing Director of ATVIRTUAL.NET KG, the core focus lies in internet security and the significance of the .at domain: "Security on the Internet starts with the domain, so I would like to use the Roundtable to promote more security among .at registrars together with nic.at," states Fischer.
Undoubtedly, nic.at anticipates an engaging three years working with industry representatives, especially considering a significant shift in the domain business is expected with the introduction of the NIS2 directive (estimated to take effect in Austria no later than 18 October 2024).
Richard Wein, CEO of nic.at, underscores the value of this entity during the meeting: "The Roundtable has a special significance for us, especially since we can intensively exchange ideas with six industry representatives, who are based on different business models. We particularly value the exchange of experiences and inputs on processes and procedures on the registrar side, where we as a registry often lack deeper insights."
About the Roundtable:
The Roundtable serves as a consultative body comprising six elected representatives from all nic.at registrars, in addition to the nic.at CEOs and staff. The committee's mission is to provide recommendations for nic.at, represent the interests of as many registrars as possible, and thereby act as a crucial liaison between nic.at and its approximately 400 registrars. The election for the Roundtable representatives is held every three years.