/ New record: 1.4 million registered .at-domains
Oct 04
/ nic.at News - 04.10.2021 08:13
New record: 1.4 million registered .at-domains
On September 11, 2021 nic.at reachead a new record. The 1.4 millionth .at domain is called physio-ruttinger.at and was registered by an Austrian domain owner. The self-employed physiotherapist, who already has his own website including a matching .at domain, wants to be found even better on the Internet in the future and has therefore decided on a multi-domain strategy.
In a short interview, Mr. Ruttinger told us more about his plan with his three newly registered .at domains: "I want to better promote my homepage and be found online as easily as possible. Because people search differently online and also make linguistic differences such as "physio" and "physiotherapist", I have registered all options. I want potential customers to get to their goal by all means. "
Thanks to a simple forwarding function, the .at domains physio-ruttinger.at, physiotherapieruttinger.at and physioruttinger.at, newly registered by Mr. Ruttinger, lead to the existing homepage www.physiotherapie-ruttinger.at. A diverse domain strategy is part of successful marketing and in any case pays off from a search engine (SEO) point of view.
.at - An attractive Top-Level Domain beyond Austria's borders
The Top-Level domain .at is the chosen home for many Austrians online. The decision for a .at domain was clear for the owner of our 1.4 millionth anniversary domain: "My company is based in Upper Austria, in other words Austria. And .at stands for Austria! Thus, no other Top-Level Domain came into question for me."
In fact 1,023,492 .at domains (as per 13.09.2021) are registered to holders with an Austrian postal address. That is about three quarters of all .at domains registered worldwide. Most of the remaining domain holders reside in Germany. Only about 9 % of the .at domain portfolio is registered to domain holders coming from non-German speaking countries.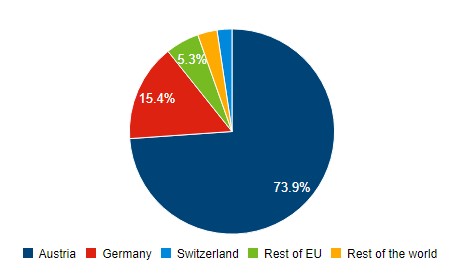 Constant growth of the .at-zone
While the .at-zone grew slowly and steadily every year until 2017, a significant jump in registrations was noticeable from 2018 onwards. Particularly in Austria, the growth of registered .at domains increased and it continues to increase. Additionally, the outbreak of the Corona pandemic in March 2020 dramatically increased the attractiveness of an online presence and thus the need for a .at domain. Richard Wein, nic.at CEO comments on this upward trend:
"Due to Corona, our lives have changed and many activities have shifted to the internet. This is also reflected in the number of .at domain registrations. Numerous companies have recognized the importance of an online presence; webshops, interactive contact forms and online appointments have become must-haves in the ongoing progress of digitalization."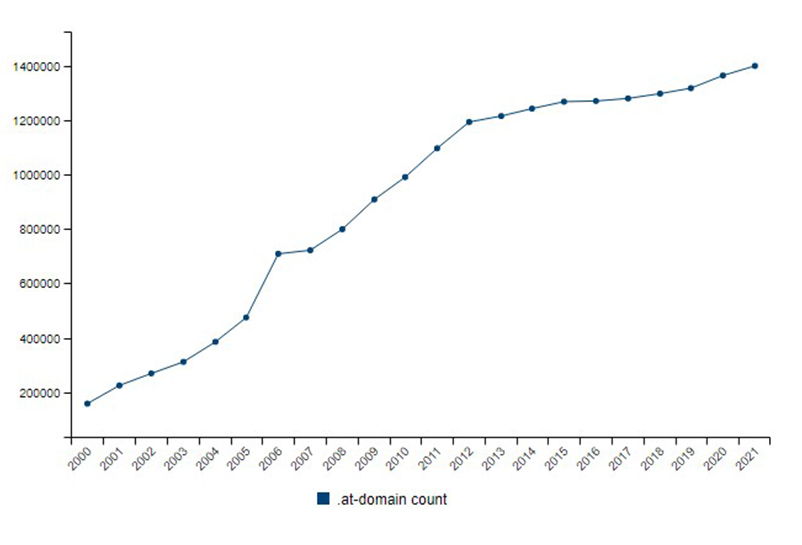 Source: https://www.nic.at/en/good_to_know/statistics-and-studies/statistics
The fact that a record level of 1.4 million .at domains would be reached in September 2021 was predicted in the first half of the year by Alexander Mayrhofer, Head of R&D: "The enormous growth in 2020 could be exceeded once again from January to August 2021. With an average of over 13,000 newly registered domains per month, the number of registrations is significantly higher than those from previous years."
It is particularly pleasing that the retention rate of .at domains has remained high for years, at over 91 %. "The additional domains are actually being used, rather than being deleted the following year. However, the forecast for 2022 is particularly difficult for us. It is clear that the severity of the COVID measures has a very direct impact on the number of new registrations. This means that we would have to predict the further course of the pandemic in Austria in order to get precise registration figures," says Mayrhofer.
Daily updated statistics can be found at: https://www.nic.at/en/good_to_know/statistics-and-studies/statistics
Your desired domain with nic.at - Our top 3 tips
After more than 30 years of success, the .at-zone, with the domain extensions .at, .or.at and .co.at, still offers great potential for existing and future domain holders. The important thing is, even if the desired .at domain is already registered, don't give up, because there are still many ways to find a suitable domain name. Here are our top 3 tips:
1. Use a hyphen in your domain name:
Sometimes words and slogans are easier to read with a hyphen! Also, a domain name in which the individual words are clearly separated by a hyphen is recognized more quickly. And: hyphens are no problem at all in domain names!
2. Umlaut domains: ue and ü, ae and ä, oe and ö
Are you still "rewriting"? For historical reasons, many users are still used to "paraphrasing" umlauts. For younger generations, however, the use of umlauts in the URL bar is already a matter of course. Our tip: Simply register both variants and ensure that you are found by "young & old", and that no one else registers the same domain name (with or without umlaut).
3. nic.at Domainfinder:
Your desired domain name is already taken? A creative word combination doesn't come to mind? No problem! The nic.at Domainfinder offers great suggestions for available domains with every domain search on www.nic.at. Try it out and get inspired!