/ Charity Challenge 2020: We were there again!
Oct 20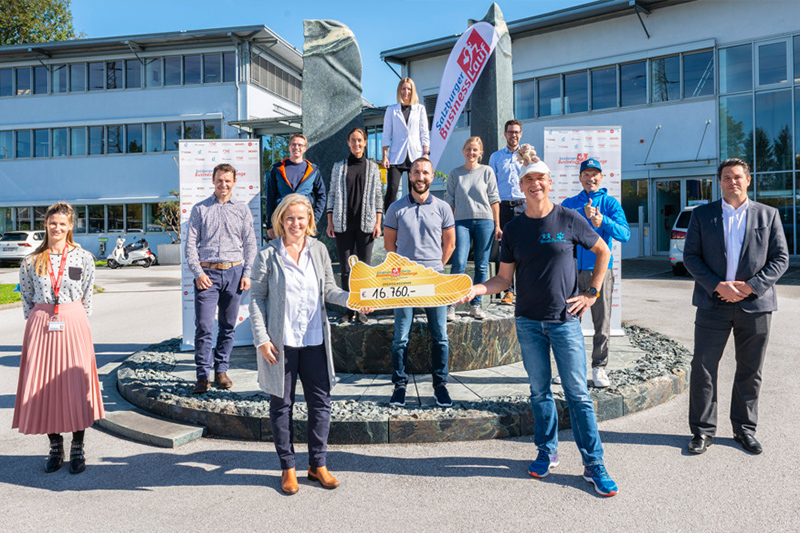 / nic.at News - 20.10.2020 12:12
Charity Challenge 2020: We were there again!
Even COVID-19 does not stop our nic.at team from getting involved in a good cause: This is proven by the 2,941.66 kilometers we covered in the course of the Charity Challenge 2020 in the last weeks and months for the benefit of the "Herzkinder Österreich". Last week the time had come: The ceremonial check handover took place on a small scale and of course in compliance with the necessary Corona safety rules.
Outdoor exercise for a good cause
The idea came from Wolfgang Zimmel (Commend International), who in 2019 expanded the original duel with SKIDATA into a competition with six companies. In 2020, the number of participants increased again with 10 participating companies. The rules are simple: two companies in each case duel each other and take on the challenge of running, walking or hiking as many kilometers as possible with a team of employees within three months. Measurement, documentation and evaluation is done via GPS watches or by manual entry via a web portal. For every single kilometer, the respective company donates 20 cents.
nic.at is ahead in terms of kilometers per participant
Movement obviously proved to be a perfect compensation for the nic.at team in a turbulent time: While in 2019 each of us covered 235.22 kilometers on average, this year we were able to increase our distance by almost 25% to 294.17 kilometers, thus surpassing our own "record" once again. With this sum, we once again covered the most kilometers per participant this year. By the way, this year we were able to duel and spur each other on with the agency movea marketing, which, like us, competed with a team of 10 people. "For us it was the first duel in the Charity Challenge. Our team was very motivated, the employees diligently collected kilometers. In the end, however, we had to admit without envy that our challengers had run away from us. Congratulations on your great result", Stefan Ornig, Managing Director of movea marketing congratulates the nic.at team.
Handover of the donation amount
On October 8th the time had come and the considerable sum of EUR 16,760 could be handed over to Herzkinder Österreich. "The élan and enthusiasm of the participants always inspires me, even if this time unfortunately the final highlight of the Salzburg Business Run fell victim to the Corona measures at short notice", Michael Mayrhofer, head of the Salzburg Business Run and patron of the Charity Challenge, said enthusiastically.
Bettina Kaineder, who initiated the project at nic.at, attended the handover as well: "Even though we were unfortunately not able to implement any joint activities internally or with our opponent due to the circumstances, I am absolutely grateful that we were allowed to participate again. Without the commitment of each and every one of us we would never have been able to hand over such a great sum! First and foremost, I would like to thank our management - we hope that we can be there again next year and, together with hopefully even more participating companies, once again exceed the donation amount."
About "Herzkinder Österreich"
Since 2006, Herzkinder Österreich has been providing parents with support, advice and assistance when they feel desperate and helpless after the diagnosis "Your child has a heart condition". Herzkinder Österreich's team of 24 employees currently cares for more than 4,000 affected families throughout Austria.