/ Domain policy
Since recent years, hundreds of new domain endings have been swamping the Internet. But how do .tirol or .versicherung differ from old friends like .de or .at? The answer is simple: by their policy model.
---
The diverse world of country domain policy

In the past, virtually all country code top-level domains (ccTLDs) were subject to highly restrictive delegation rules. Stringent selection criteria and disclosure rules for domain holders governed who was able to register a domain name. In many cases there were limits to how many domains a single individual could hold. With many top-level domains (TLDs), domain registrations were only possible at the second level* (such as co.at, gv.at), to ensure that a domain holder could be readily identified as a government body, a company or a private individual. Measures such as this were designed to keep criminal activity on the web under control, preserve national interests and lessen the incidence of domain disputes. They also helped to bolster the credibility of the top-level domains themselves.
But this way of seeing things has changed a great deal over the years. Since 2003, the international domain landscape has shifted in favour of a more liberal approach to registrations. Many "opened" ccTLDS such as .at have clearly proved that regulation is not strictly necessary in order to operate a trustworthy zone. Increased commercial interest in domains and the accompanying rise in time spent on administration called for the introduction of automated processes that dispensed with manual controls. In dealing with disputes, mechanisms such as wait status, reporting offices and arbitration boards have proved to be equally effective.
Country code top-level Domain (ccTLD) and generic top-level domain (gTLD) model: Bespoke vs. one size fits all

Policies are evolving and real-life examples of changes are emerging all the time. The legal basis for .at domains are the "Terms and Conditions" and the registration guidelines of nic.at. In some countries these occur because the law or regulator demands them. In others the registry or its policy committee takes decisions regarding any adaptations needed to reflect the latest developments or shifts in the marketplace. It goes without saying that the new top-level domains put the old ccTLDs in a position where they are forced to act: The United Kingdom's Nominet took the decision to register domains directly under .uk from 2014 onwards, following extensive consultation with representatives of the community.
The introduction of new generic top-level domains (gTLDs) in 2013 was a great success and a second beat is scheduled for 2020. All of the new endings are based on the "American" policy model stipulated by ICANN for gTLDs such as .com, .net and .org. This means that also the new Austrian domains such as .wien and .tirol stand out from familiar faces like .de or .at due to different contractual relationships and cancellation mechanisms. Many of the new endings also place specific requirements on the domain holder. Here are the key differences:

Origin of ccTLDs and gTLDs:
Country code Top-Level Domains (ccTLD) .at

Country code TLDs arose long before the foundation of ICANN, and as a result they tend to reflect local peculiarities. Which is why each country defines its own delegation rules. The following aspects need to be taken into consideration:
national law
government interests
interests of the local Internet community
Generic Top-Level Domains (gTLDs)

Operators of generic top-level domains have a contract with ICANN based on American law in which they engage to following certain standardised policies, regulations and administrative processes. As part of a time-consuming and expensive application process, applicants for new top-level domains must provide detailed evidence of their technical and commercial capabilities and go through a rigorous, multi-layered evaluation process.

---
Contractual relationship:

Country code Top-Level Domains (ccTLD) .at
Triangular relationship: The registration of a .at domain establishes a contractual relationship between the domain holder and the registry nic.at, in addition to the contract with the registrar.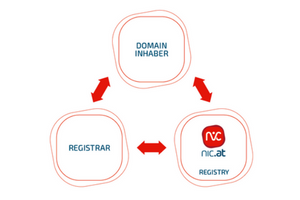 Generic Top-Level Domains (gTLDs)
Waterfall model: In the case of generic TLDs, domain holders only have a contractual relationship with the registrar, who has a legal relationship with the registry (and the registry, in turn, has a contractual relationship with ICANN).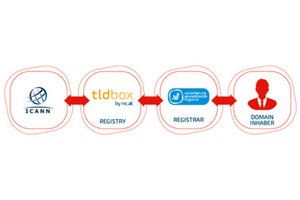 ---
Cancellation vs. allowing to lapse:

Country code Top-Level Domains (ccTLD) .at
When registering a .at domain the domain holder is deemed to have accepted a continuing obligation. This means that the domain (and therefore the contract) is perpetuated until such time as the holder actively cancels it.

Generic Top-Level Domains (gTLDs)
With generic TLDs the contractual relationship has a limited term, and expires automatically once the agreed term ends. This means that the domain expires on its own – unless the holder pays again and in so doing extends the contractual relationship.

---
Country code Top-Level Domains (ccTLD) .at
A .at domain can be registered by any individual or legal entity, irrespective of their nationality, place of residence, area of operations, etc.

Generic Top-Level Domains (gTLDs)
Many of the new gTLDs are freely available for anyone to register while others are reserved for certain categories of user who must be able to demonstrate compliance with various criteria at registration (e.g. .versicherung only for the insurance industry, .ngo only for NGOs, etc.) The majority of brand TLDs (e.g. .bmw or .canon) are used by the companies in question themselves and are not made available externally.

---
Generic Top-Level Domains (gTLDs)
Domains can only be registered via ICANN accredited registrars or official resellers. They cannot be registered directly with the registry.