/ TLD studies
At least since introduction of the new top-level domains on the market, registries have been keeping a very close eye on whether and how recognition and image of top-level domains are changing. nic.at commissioned a study to explore the image of the .at domain in 2014; ICANN published the most comprehensive top-level domain study to date in June 2016.
---
Between February and November 2014, nic.at and Markegagent.com worked together on three occasions to canvass the opinions of some 1,000 people about .at. These activities were triggered by the campaign "Österreich setzt auf .at" that was geared toward endearing Austrians to their top-level domain.

.at is likeable and has a good image

While not even a quarter of the respondents hold their own domain, approval of the Austrian .at internet extension is nonetheless high. The vast majority is well aware that .at domains are used both by Austrian service providers as well as by service providers wishing to express their affinity to Austria. From the third place on, the values associated with .at were: likeability, home on the Internet and a good image.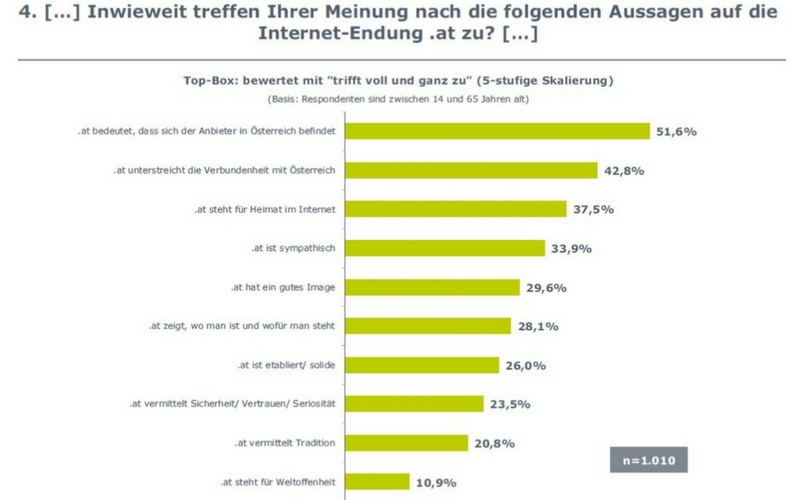 Almost 90 percent would "certainly" or "probably" register a .at domain!

Interviewed about their preferences when it comes to TLD choice, almost 40 percent stated that they would certainly opt for .at, if they were looking to register a domain. For another half of the respondents, .at would be the most likely choice.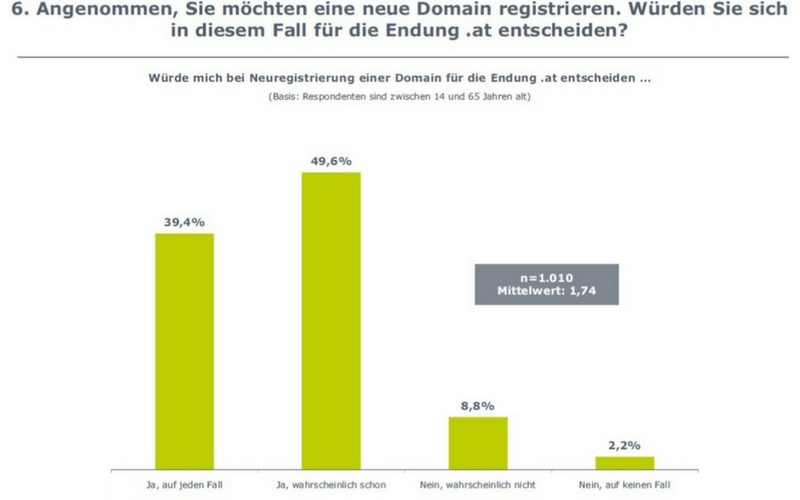 Global ICANN studies 2015 and 2016

During introduction of new top-level domains, Nielsen carried out two "Global Consumer Surveys" on behalf of ICANN with almost 12,000 respondents in 24 countries. The surveys were about the popularity of domain extensions, reasons for domain choice, internet use behaviour and confidence in the domain industry. In Europe, consumers in Italy, Turkey, Spain, Poland, UK, France, and Germany were interviewed.

Results that also apply to country code extensions like .at were:

95% of the respondents indicated confidence in the TLD of their native country, provided it is widely used. There is a clear relation between recognition and confidence
Compared to other technology industries, confidence in the domain industry improved between 2015 and 2016
80% of the respondents expect there to be a visible connection between the extension and the content of the website
The best known TLDs with the longest history have the strongest position and highest level of awareness in the Internet
Internet searches are carried out primarily with search engines, but Internet encyclopaedias or ISPs rank second and third. Search engines also lead when it comes to searching for a specific website, followed by typing the domain name into the browser bar. Apps and QR codes are hardly used to find websites. But when it comes to the safest way of accessing a website (e.g. for online shopping), direct entry into the browser bar is considered safest.
Reasons not to visit domains with unknown extensions are mainly security concerns. In this respect, users are also prejudiced against leaving their data on domains with unfamiliar extensions
Download studies

The original studies are available for download here.
Others players in the domain industry that publish studies regularly are: