/ Domainstrategy-work
The nic.at domain strategy study 2012
Using a blend of qualitative and quantitative market research carried out by PGM Marketing Research, a total of 220 Austrian companies, 32 nic.at registrars, and 32 creative agencies were canvassed online and by telephone between April and June 2012, on the subject of domain strategy and new top-level domains. The survey was supplemented by 36 personal interviews with experts from selected companies and agencies.
---
Responsibility for domains and domain selection

Domains are gaining importance: 66.7% of the agencies and 53.1% of the registrars questioned reported observing a distinctly positive development in recent years with regard to domain awareness, value, and use. This is best illustrated by the fact that domain decisions are mostly "up to the boss" – that is to say in the hands of senior management. Nonetheless, responsibility for domains and related processes in companies remains largely unregulated, with registrars and agencies having a widely diverse spectrum of contacts. Only 4.2% had a dedicated corporate domain management strategy.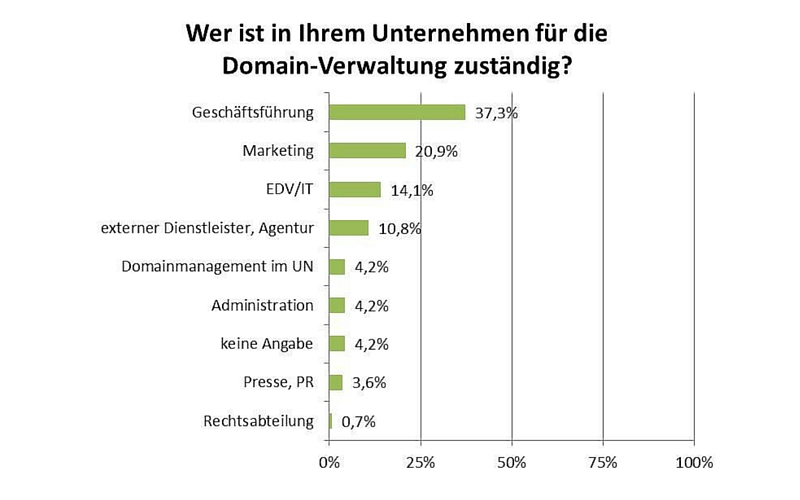 So far, choice of domain has been dominated by typical criteria such as the company name (76.4%) and product names (52%). Meanwhile, far fewer companies are thinking about registering slogans and advertising messages as their domains. Only one in five of the respondents were considering the adoption of generic names. Typo domains or phonetically similar terms lagged far behind, with not even 5%. For 84.1%, the top-level domains selected by companies depended largely on the local, regional or international orientation of their company or brand. For more than two thirds, the level of TLD name recognition was decisive, while target groups and sales markets were the third most frequently cited factor.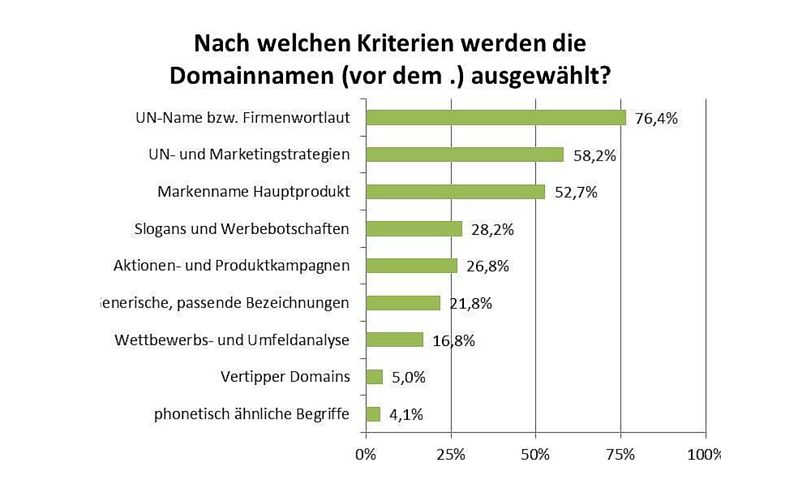 The good news for .at: More than 80% of all agencies and registrars agree that .at is Austria's LEADING top-level domain. 93.7% of companies also consider .at an essential indication of their location and more than half stated that .at stands for a positive image, credibility and security.

Our tip: The domain name BEFORE the dot (.) is marketing driven, while the one AFTER the dot (.) is sales driven. At present, the potential of domains for campaigns and slogans is still only poorly exploited.
Domain strategy and professional consulting

An interesting picture emerges when considering the strategic approach that drives domain registrations. 41.4% of companies indicate that they believe they have already implemented a domain strategy. Agencies and registrars, on the other hand, take a naturally more critical view of their customers' activities. Therefore, 63.6% of agencies and 59.4% of registrars felt that companies had no plans to develop a specific domain strategy, let alone that they had implemented one (10%).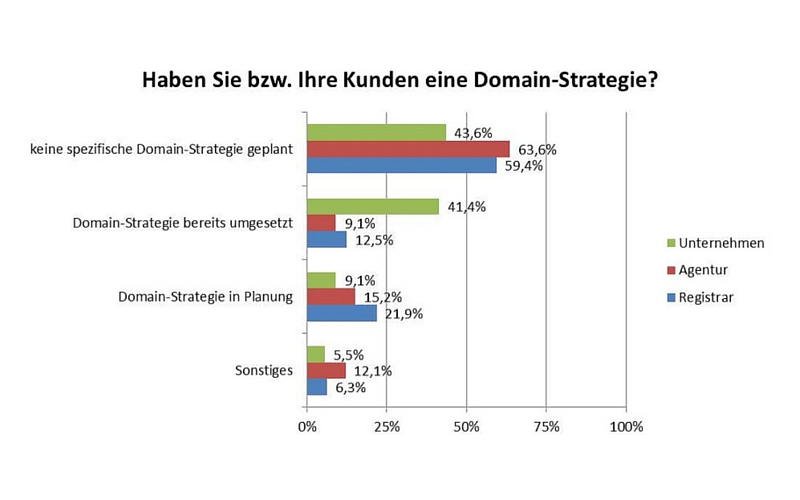 An analysis of domain portfolios also reveals a number of similar discrepancies: for 62.3% of companies, analysis of traffic was the most important factor, while agencies and registrars considered this of lesser importance. Instead, the experts stated that criteria such as covering all brand names in the portfolio or matching up against keyword lists were highly relevant, while only little more than a quarter of the companies considered these factors is in their analysis. Monitoring competition in the Internet made up a key element of the analysis for three quarters of the registrars and more than 40% of the agencies, while one third of the companies did not consider this very urgent.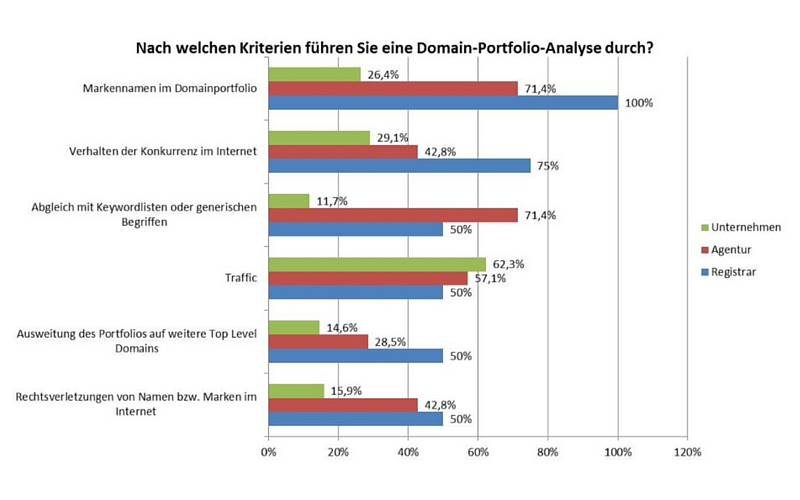 When it comes to ongoing, all-embracing domain portfolio analysis, expert support is clearly needed. Many customers receive support from the registrar or their agency when registering a domain for the first time: 72% of registrars and 91% of agencies indicated that they actively offered domain consulting services. By contrast, so far, ongoing domain portfolio analyses were only being offered by a small percentage of the service providers questioned. Yet, no less than one third of the respondents reported that they are planning to expand their range of services to that effect in the future.

Our tip: Professionals can contribute many additional aspects when it comes to domain portfolio analysis, such as the generation of keyword lists, brand monitoring, competition monitoring in the Internet and tips for meaningful portfolio expansion.
New top-level domains and their implications

More than three quarters of the agencies and 59.1% of the companies canvassed were aware that new top-level domains were scheduled for launch starting 2013. However, most agencies and registrars had yet to receive any related customer inquiries. Overall, the industry's reaction has been accordingly muted: at present, more than half of the registrars are not yet sure whether they are going to offer their customers the new extensions. So far, the agencies have remained equally vague: almost 70% have yet to decide whether they will be tracking the development of the new TLDs and nearly one third of the agencies questioned felt that the topic had no relevance at all.

According to both expert groups, 84% to 94% percent of users put their faith in the existing TLDs. Therefore, neither the registrars nor the agencies are concerned that the new top-level domains will have any serious impact on user behaviour. Yet still, only less than one quarter of agencies and 12.6% of registrars believe that the new top-level domains will be adopted by users.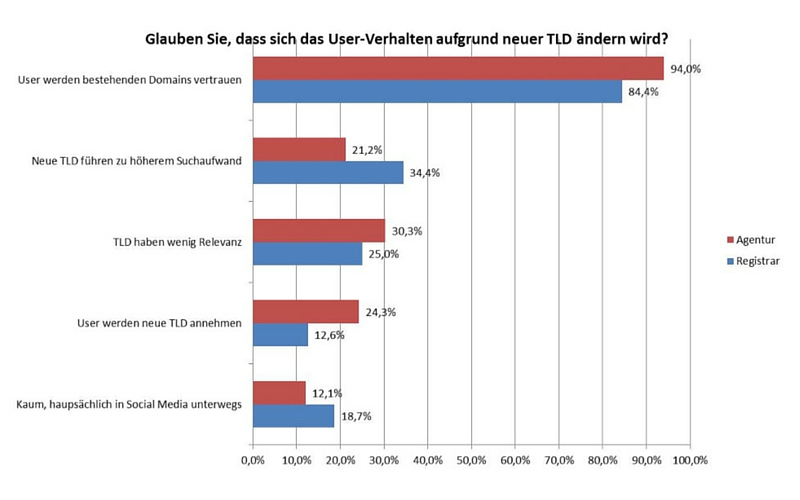 Registrars and agencies both expect the new top-level domains to impact their business primarily by creating an increased demand for consulting services and a higher administrative workload. Both expert groups believe that customers will continue to rely on the familiar top-level domains. At the same time, they believe that companies are indeed likely to register their existing brands in the new top-level domains additionally. Above all, introduction of the new top-level domains will give rise to an increased demand for consulting services by domain professionals. According to the experts, users will continue to put their faith in the existing domains.